Survey Says High-Earning Couples Have Less Stress—But More Secrets
Of course, money can be a significant source of stress in long-term relationships. It just comes with the territory of important, but less enjoyable, aspects of combining two lives over time—like meeting the in laws and figuring out how to share a space. As you grow your life together, you also grow your finances together, and inevitably conflict can arise when you're having heavy talks about things like savings goals and spending habits.
If you've ever assumed that making more money would solve those conflicts, though, think again. New data released by LendEDU suggests that's only half true (at best). According to a survey conducted of 800 people who were either married or in a serious relationship, although couples in high-income brackets experience less financial stress, they are more likely to keep a secret credit card or bank account that their partner doesn't know about.
Fascinating, right? That's quite the bombshell when you consider that 89% of respondents claimed to regularly talk about financial goals and values with their partners.
Three different household income tiers were surveyed to determine if financial stress was more or less common depending on couples' income levels, and the verdict is in: It's common at all levels, but the type of stress you experience looks different once your income increases. Based on a low-income tier with a household income of $25,000 to $49,999, a middle tier of $50,000 to $100,000, and a high-income bracket for households with more than $100,000, the results take a look at how financial stress can impact a long-term relationship at every earning stage.
The more you make, the less you stress overall

First, the no-brainer: The LendEDU survey found that money is stressful across all income brackets; some couples from each bracket said that financial stress was the most difficult part of their relationship. But the survey made it apparent that couples felt the crunch more in the lower-earning brackets: Fifty-one percent of those in the low-income bracket ($25,000 to $49,999) said money was the most stressful part of their relationship, compared to 45% who said the same in the middle-income tier, and 42% in the high-income bracket.
Overall, this is good news for millennial professionals on the path to financial success. It suggests that even though young couples may start off stressing about money, those concerns may ease up as their income increases.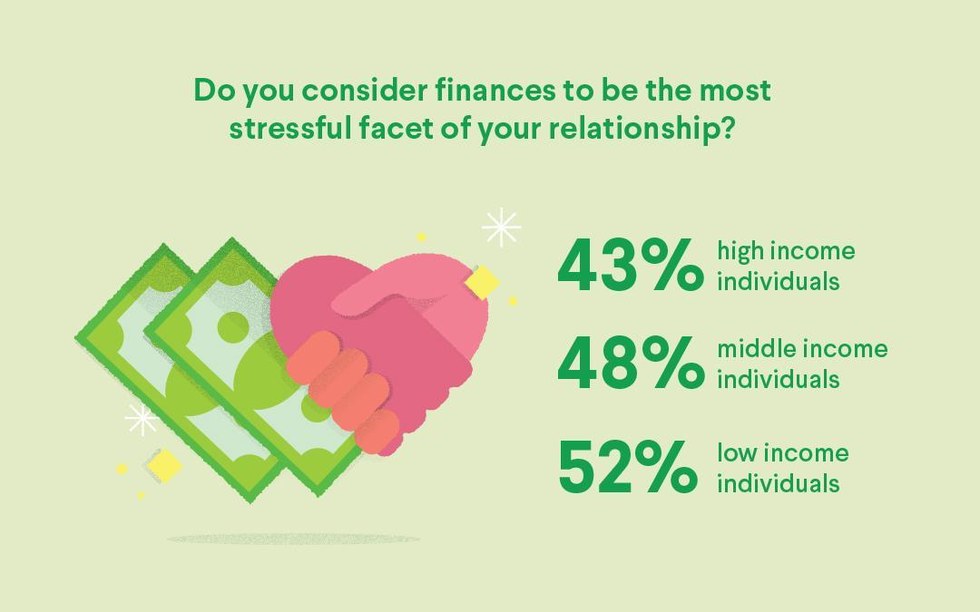 Illustration by Crystal Chou
The more you make, the more secrets you keep

Unsurprisingly, there's a catch. The survey also asked respondents whether they thought honesty about personal finances is more important to them than their partner's faithfulness. For 32% of couples, the answer was a resounding "yes."
There's at least one reason why this could be the case, though. In another question, couples were asked about whether they kept a secret credit card or bank account their partner had no idea existed, and 23% of those in the high-income bracket (as well as 14% of middle-income earners) admitted that yes, they did. Once more money enters the equation in a relationship, it looks like deceiving a significant other about some portion of it can become par for the course. For the couples that felt lying about money was a bigger breach of trust than, well, cheating, this stat might feel vindicating.
To be clear, cheating—whether it's with another person or by skimming some money out of your S.O.'s sight—is damaging no matter which way you look at it. But from a financial perspective, when you're married (or in a serious relationship) and your earnings start to increase, the impulse to spend on your own terms like you did before is understandable. When you get a raise, it's natural to want to splurge your hard-earned cash on yourself without having to rationalize those purchases to your partner.
But that doesn't mean a secret account or credit card is the way to go. There's nothing wrong with sharing a joint account and also having separate accounts so you can have some financial autonomy, as long as your partner knows about it. And it's best to count yourself out of this secret account statistic, as we can't imagine these relationships last for long once they're found out.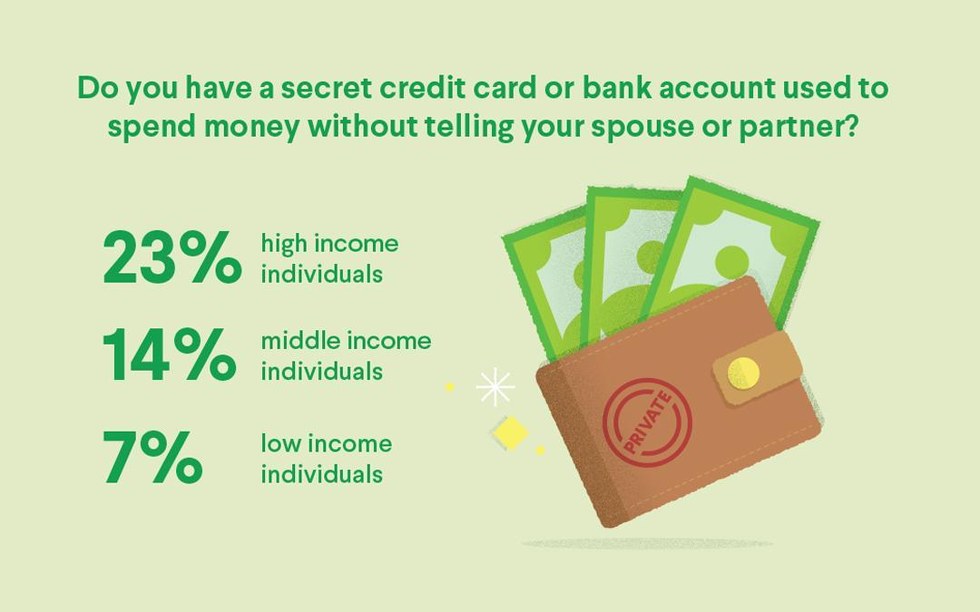 Illustration by Crystal Chou
Talking about and working together on finances is crucial

Whether we like it or not, money can rock the boat in relationships. However, one of the great things the LendEDU survey found was that a large percentage of couples—93%—believe that it is important to talk about personal finances and your financial histories before marriage. And a full 92% help each other manage their personal finances, including help with budgeting, saving, and investing.
It's important that you identify and work through the things in your financial life that cause you stress, together. For some couples, the biggest financial stressor might be student loan debt. For others, it might be a lack of retirement savings. It could even be the fact that you're each trying to control the other person's spending, and it's making you both miserable. Navigating your finances as a couple, and learning where you are and aren't compatible money-wise, is a process that takes time, and sometimes as much patience as you can muster.
Depending on whether you're married, engaged, or living together, you will each have to work to figure out what financial situation suits you both at this stage in the relationship. And you simply can't do that without being open with your partner about money. Often it's just a matter of laying your financial situation out in front of each other so that you can decide how you want to balance your shared money goals, financial fears, and desire for financial autonomy—without keeping secrets.